Project website for Emmet Road Mixed Use Development.
Have your say
Project Office :
6 Tyrconnell Road, Inchicore
Phone: (01) 222 6538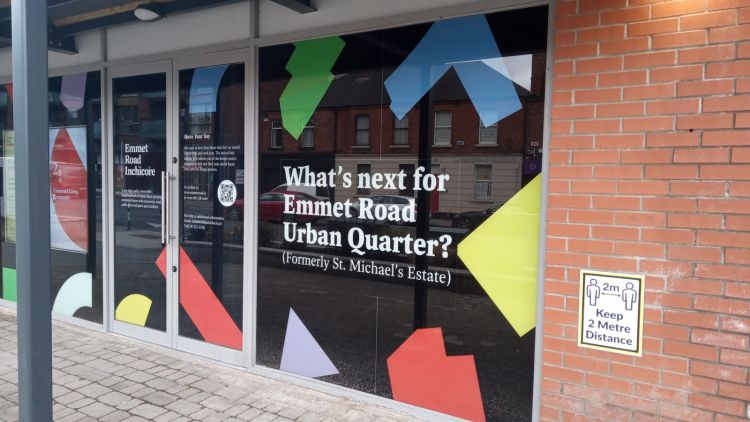 Important links:
News and Updates
Feedback Survey Deadline Announcement
21st October, 2021
It's not too late to take our feedback survey for the Outdoor Exhibition opposite Richmond Barracks! The survey deadline has been moved to November 10th 2021.
Have your say and take the survey here or use the QR code below!
Outdoor Exhibition Now Available to View
27th September, 2021
The informative Outdoor Exhibition installed outside Richmond Barracks is now available to view! Have your say and take the survey here!
'The Dream Hangout Spot' - Core Youth
26th April, 2021
Core Youth Service held an Instagram youth workshop. The youth gave feedback on the proposed designs through Instagram polls and questions. As part of a competition the youth were asked to submit entries describing their favourite place to hangout. View these entries in the video below.
Outdoor Exhibition at Richmond Barracks
21st April, 2021
There will be an informative outdoor exhibition installed at Richmond Barracks this month. This will evolve over time with extra panels added, detailing designs amended based on public recommendations.
Online Consultation Event - Report, March 2021
20th April, 2021
This report provides a summary of the comments made during group discussions at the Live Consultation Events. These events took place on the 3rd and 10th of March 2021. View the report here.
Survey Results, December 2020
22nd February, 2021
View the public consultation results
Initial Research
22nd December, 2020
Research Findings Part 1: The architect talking through the findings from their initial research and assessment of the site and wider area.
(read more)